Works
"The Tiger in the House is teeming with excitement and heart-stirring emotion. A natural storyteller, Sheehan will draw you in with her finely crafted characters and hold you tight until the very end."
--Heather Gudenkauf, author of The Weight of Silence

Delia Lamont has had it. Though she loves her job at Portland, Maine's child services agency, its frustrations have left her feeling burned out and restless. She's ready to join her carefree sister Juniper and start a seaside bakery, celebrating and serving life's sweetness for a change.
In New York Times bestselling author Jacqueline Sheehan's evocative and emotionally compelling novel, a mother and her adopted daughter each embark on a journey of self-discovery in the wake of a stunning revelation.

How do you keep a secret so huge that it could devastate everyone you care about? For Kate Malloy, the answer is simple: one lie at a time. That's how she has protected her daughter for more than a dozen years, shielding her from a terrible truth. Sofia, a fifteen-year-old soccer star living in New England, believes she was born in Mexico and legally adopted by Kate. But a posthumous letter from her stepfather tells Sofia a different story—one of civil unrest and bloodshed, death-defying heroism and child-smuggling, harrowing sacrifice and desperate decisions.


Sofia's trust in her mother is shattered. At last Kate must do what she knows is right—accompany Sofia back to Guatemala, the place where Kate found horror and heartache but also the greatest joy of her life. As mother and daughter confront the damage done by years of dangerous yet necessary deceptions, they discover how much love, hope, and happiness may still remain—if they have the courage to face their past.


"Sheehan's writing is lively and vivid and her feel for historical detail is fine." —The New York Times


"Sheehan uses her skills as both a psychologist and a writer to create a solid, insightful story." —Kirkus Reviews
"How far would you go to save the life of a child? That's what Kate Malloy, a young motherless environmental researcher must ask herself in this searing tale of love and desperate acts set against a backdrop of surreal beauty and unspeakable cruelty. Enthralling, exhilarating, THE CENTER OF THE WORLD is full of characters who must trust and love without any assurance that either will be returned. It's a cinematic tale whose characters and their difficult choices will stay with you long after you've closed the book."
--Suzanne Chazin, award-winning author of the Jimmy Vega novels
Jacqueline Sheehan made serious waves with her much beloved runaway bestseller, Lost and Found ("The best book I've read in a long time" —Susan Elizabeth Phillips). Now she treats readers to a sequel, Picture This—a story of rebirth and personal redemption that is as moving, funny, and heart-soaring as its predecessor. Whip-smart contemporary women's fiction with heart and soul, in Picture This, Rocky Pelligrino is back on Peaks Island off the coast of Maine, along with Cooper the dog, the beautiful black Labrador retriever who gave her a new "leash" on life. But this time a new wrinkle warps the fabric of her world when a young girl shows up on Rocky's doorstep claiming to be the long-lost daughter of her late husband. Could this young girl hold a tendril of the man who was the love of her life? Or could the girl's appearance throw Rocky's world into chaos . . . and shatter her heart again?

The poignant and unforgettable sequel to the beloved bestseller Lost & Found; a marvelous tale of life-altering surprises and unanticipated guests

Jacqueline's new book, Picture This, is available in stores and online.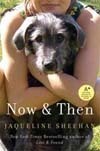 Anna O'Shea has failed at marriage, shed her job at a law firm when she and her recalcitrant nephew are summoned to the past in a manner that nearly destroys them. Her 21st Century skills pale as she struggles to find her nephew in 1844 Ireland. For one of them, the past is filled with privilege. For the other, the past is brutally difficult, filled with hunger and struggle. Will every choice that they make reverberate through time? And do Irish wolfhounds carry the souls of the ancient Celts?
Rocky's husband was just forty-two when she discovered him lying cold and lifeless, and her world changed forever. Haunted by guilt, she quits her job, chops off her hair and heads for a place where no one know her, on Peaks Island off the coast of Maine. She leaves her job as a psychologist behind and becomes an animal control warden. She saves a wounded black lab and is determined to uncover the mystery of his nearly fatal injury.
Based on the life of Sojourner Truth.


The Comet's Tale reads like a fast-paced poetic memoir, telling the tale of the abolitionist heroine with innocence and accuracy. Sheehan imagines the interior life of Sojourner Truth, reaching beyond the heroine's social and political persona to create a searing novel that infuses the historical atrocities of the 1800's with the psychological speculation of who Sojourner really was.